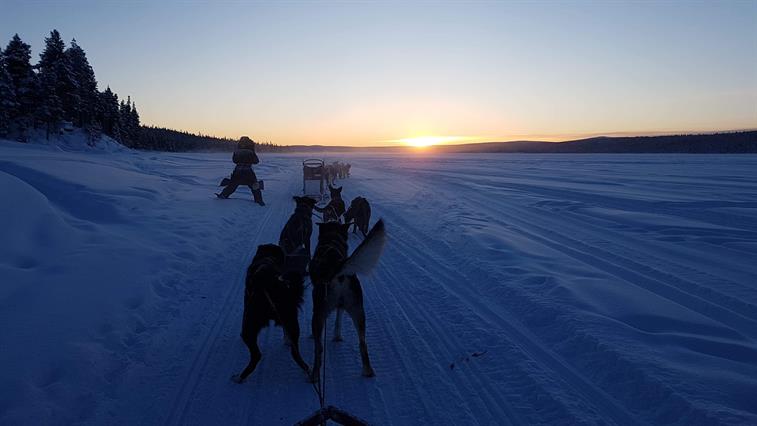 Week Tour with your own husky team
Join us on a fantastic trip of a lifetime through the amazing surreal Lappish interior. You drive your own team of dogs.
The arrival day we will pick you up from required address in Kiruna C and take you to our base in Laxforsen, located just outside Kiruna not far from Jukkasjärvi. We provide warm clothes (shoes, overall, warm cap and gloves), sleeping bag with sheets, towel. Your own clothing for the tour should be hardwearing and warm – and don´t forget long thermal underwear and socks. The first night you stay at the kennel.
When we wake up the next day we feed the dogs. After our own breakfast we pack the sleds, prepare for the tour and harness the dogs.
When we and the dogs are ready and the start signal for the tour goes, the dogs will stop barking and all you will hear is the sound of the sled and the breathing from the dogs. With our Huskies we guide you out on a tour in the amazing Lapland in Jukkasjärvi and Torne Rivers´s surroundings through forest sections often covered in shining snow and over frozen lakes.
We start go to our wilderness camp, built 3 years ago. No electricity or water. We take water from the frozen lake and the camp has outdoor toilets. When arriving to the camp we start taking care of the dogs, fetching water from the lake and prepare the sauna for a bath. Guide and guests share the work in the camp. You will get the whole picture of the life in the wilderness without all modern things.
We go on daytrips from the camp and return in the evening. We eat lunch out in the forest and we take different trails every day. We are 5 nights at wilderness camp and then we return to the kennel. We book a nice dinner in a restaurant in Kiruna C and this is included in the price.
Last night the you stay at the cabin on the kennel. There you can enjoy is a new built shower with warm water.
Price: 16000 SEK/person.
Price includes: food (last dinner at restaurant in town), lodging (2 nights at the kennel and 5 nights at wilderness camp), transfer, dogs and warm clothes for the tour.
Participants: Minimum 2 guests/tour. Are you lonely guest/traveler, contact us, there may be a possibility for you to follow another booked group. Maximum 6-8 persons/tour
For booking: teamasanilsson@gmail.com or +46 (0)70 5670145, +46 (0)70 3123035