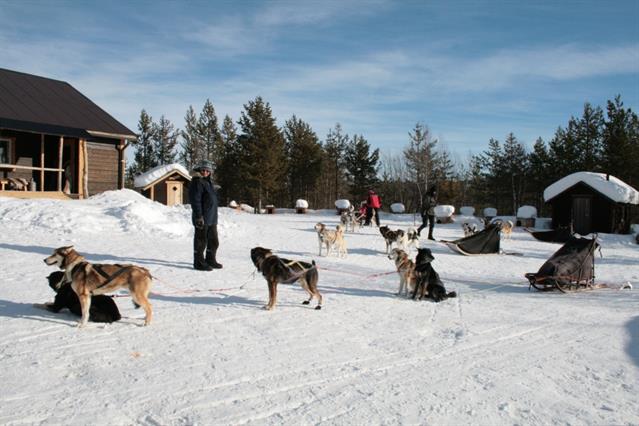 Overnight Dogsled Tour
This tour takes you from our kennel through snow covered forests, over the river Torneälven to our wilderness camp.
The camp is situated by the lake Väkkäräjärviand has no running water or electricity.
It is heated up with wood stoves, candles provide a cosy light and water we get from a small creek just behind the cabin. Besides the rather ancient feeling these circumstances create, the deep silence around the place is rather stunning.
As there is no light pollution around the area, the northern lights are visible on many clear nights and the starry sky is very impressive as well.
At 13.00 o´clock we pick you up from your hotel and drive you to our kennel, which is about 15 km away from Kiruna City.
Here we introduce you to our dogs and give you some interesting information about the Alaskan Husky, what they do and how they live.
Before the tour starts we provide you with warm clothes (overall, boots, mittens, hat).
Every participant drives his own team of 3-4 dogs, but if you wish, it is also possible to ride as a passenger on your guides sled.
After the instructions in "how to drive a dogsled", we harness the dogs and take off to our wilderness cabin.
After arrival we take care of the dogs and sit down for a warm cup of tea or coffee.
In the wood heated sauna you have the possibility to relax for a while before or after having dinner.
The next morning starts with a nice breakfast and afterwards we harness the dogs again and head back to our kennel.
Departure: 1st December to 15th April, every Wednesday and Saturday
Price per person: 4.800 SEK
Pick-up from Kiruna 13.00 pm / Return to Kiruna 13.00 pm the next day