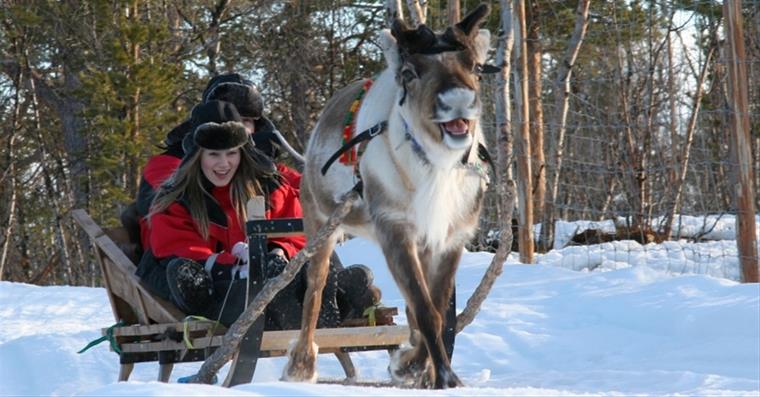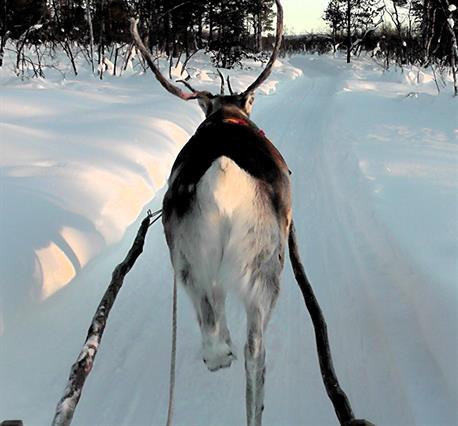 Árbi Vuoján – Sami Experience with Reindeer Sledding
Visit a Sami village, meet some reindeer and enjoy a 5 km ride with the reindeer sled in the wintry countryside. An unforgettable experience of the traditional Sami lifestyle in the Arctic.

In the little Sámi village of Rávttas you will encounter the genuine life of the reindeer people. Some of our reindeer are fed and cared for in a corral during the wintertime. You will get close to them and they might even eat from your hand. Then we'll harness the reindeer and go out into the countryside with the reindeer sleds. This will be the highlight of your stay in Kiruna! It's an unforgettable experience to steer your own reindeer through the deep snow and at the same time enjoy the magnificent landscape. After the ride it's time to relax and enjoy your lunch with reindeer meat and bread around the open fire in the lavvu (Sami tepee).
PRICE
2 495 SEK/adult
1 250 SEK/children (3-12 years)
DEPARTURES
Tuesdays and Thursdays from Dec 4 – March 31
10 am – approx. 2 pm
INCLUDING
Transfer, guide, warm clothing, lunch (please tell us beforehand if you don't eat meat)
NUMBER OF PARTICIPANTS
Min. 2 – Max. 8 persons
MEETING PLACE
Your hotel in Kiruna C or the tourist office