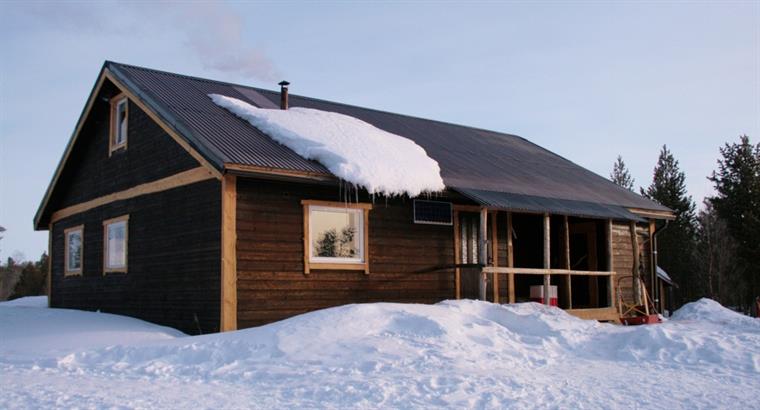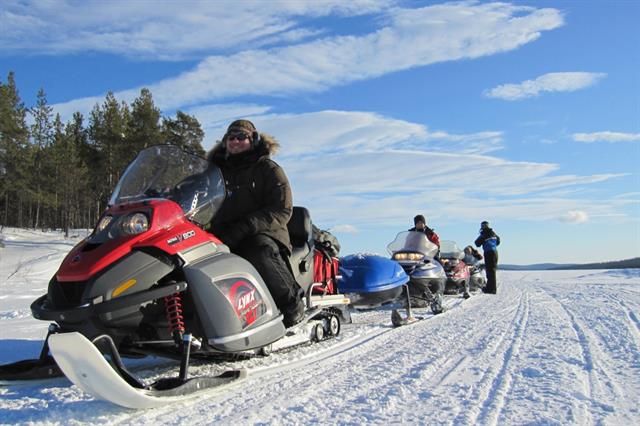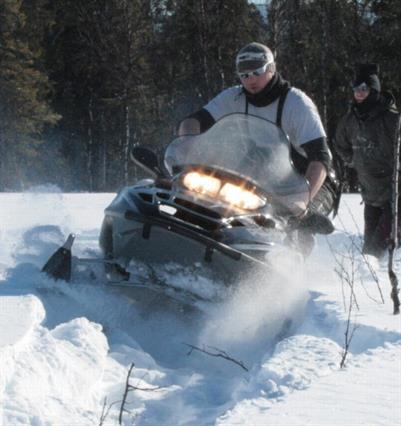 3-day snowmobile tour
This tour is an excellent choice for everybody, who would like to give the adventure of extended snowmobiling a first try.
The distances covered every day are to a certain extend variable and can be adjusted according to the wishes of the group.
The route is diverse and offers relaxed driving on wide trails as well as more challenging driving on narrow forest trails.
Day 1
Arrival at Kiruna airport/railway station and transfer to our home base. Here you will have your first dinner and your guide will outline the tour for you and hand out some extra clothing (overall, boots, mittens and hat).
Day 2
After breakfast you will get all the important security- and operating instructions about handling snowmobiles.
Then you will start your tour with a about 70 km ride to our wilderness
camp at the lake "Väkkäräjärvi".
The route takes you partly over wide trails on the Torneriver and partly over narrow, curvy forest trails.
The wilderness camp has no running water or electricity, but as there is no light pollution around this area the chance to see one of the impressive northern lights on clear nights are very good.
Before or after dinner you can relax in a wood heated sauna.
Day 3

From here the tour continues to the sami-village "Soppero" which is a very small village northeast from Kiruna.
In Soppero you spend the night in the camp of a sami family. They are very happy to tell you all that you want to know about reindeer herding and their native sami culture.
(distance appox. 70 – 80 km)
Day 4
On the last day we head back to our home base.
According to the wishes of the group it is possible to stop at the famous Icehotel in Jukkasjärvi and visit the site (entrance not included).
Overnight and dinner at our guesthouse. ( Distance approx. 70 km)
Day 5

Departure
Information: The minimum age to drive the snowmobile is 18 years and a valid drivers licence is needed.
Every guest will drive his own snowmobile.
In case of damage we have an excess fee up to 6.000 SEK.
Departures: On request from the 1st December to 15th April, minimum 2 participants.
Price per person: 15.500 SEK