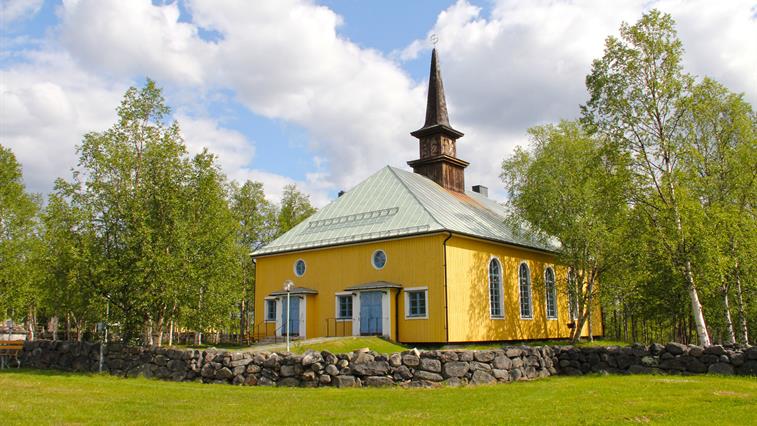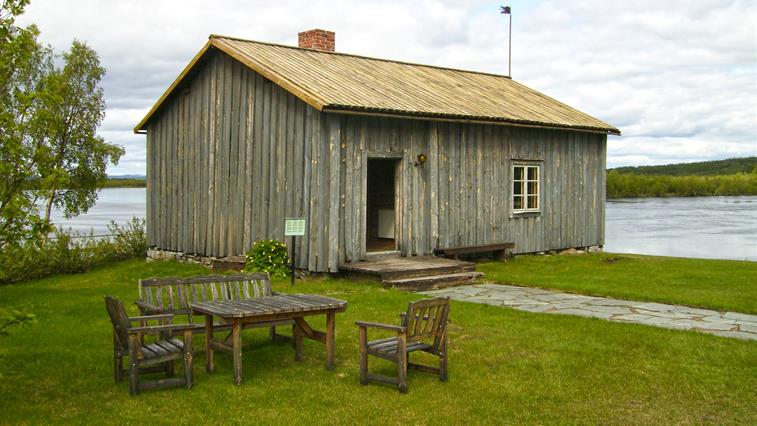 Discover the villages in the forest landscape
​​​​​In Kiruna municipality there are around 50 villages. The distance from highways, congestion and dense buildings. Different than the cities pulse and the everyday squirrel wheel. The fishing enthusiasts will find glistening grayling-streams and fine trout water, arctic char, and well-grown salmon. The area offers rich wildlife and forests, low mountains and marshes. The seclusion is obvious. It's great to travel in the east with your own car or rental car. You will find what you need in terms of accommodation, food and gas stations. But, of course, it's a little off track. That's kind of the point.
Svappavaara
46 km from Kiruna. Mine village since the mid-1600s. Even today you can see the remains of the mining of both iron- and copper-ore in the area. The vegetation is special because of the high level of copper in the soil – for example, there are "copper flowers". LKAB still processes some of its iron ore here.
Vittangi
76 km from Kiruna. Kiruna's connection with Tornedalen. The village is beautifully situated where the Vittangi river flows into the Torne river. The village was founded when Henrik Mickelsson Kyrö settled at this place in 1674. The area is well known for good fishing and canoeing. Within 30 minutes drive you can reach four rivers: Lainio, Vittangi, Kalix and Torne river. Vittangi has a grocery store and gas station. Here you will find Vittangi church (opened by Lars Levi Laestadius in 1854). About 10 km from Vittangi is Suptallen. This tree has a special look with a crown shaped like a ball. Here the horse riders stayed in the past, to have a drink and let the horses rest.
Lainio
80 km from Kiruna. Lainio is a beautifully located village on the Lainio River beach, an eldorado for fishermen. Here is a camp offering accommodation and activities all year round. Here in Lainio you will be guaranteed the silence! A little bit outside Lainio, in the village of Vivungi, is Europe's largest trapping pits system, with over 600 pits. Trapping pits, one of the oldest hunting methods and used since the Stone Age, were used primarily for the capture of wolves, elk and reindeer, most common in northern Sweden.
Masugnsbyn
106 km from Kiruna. An old milling village with remains from the iron ore mining, where the ruins of the blast furnance still can be seen. The old mine house contains a museum and a café. In the area is a canyon, which is 2,5 km long. The vegetation is unique, You can for example find fern at a size of 2 meters! 227 steps leads down to the canyon.
Lannavaara
123 km from Kiruna. Here you will find Kristallen, which is Scandinavias leading educational centre for gemstones, gemmology and jewellery making. Wilderness activities all year round. Try goldpanning in untouched nature or try you luck with fishing. Also visit the beautiful Princess Eugenia memorial church, built for the Laestadian revival. There is a small grocery store here.
Övre Soppero
126 km from Kiruna. The village is inhabited by nearly 300 inhabitants, many of whom belong to reindeer-herding Sámi families. Here is Sopperogården with accommodation, store and restaurant. Also Den Gode Herdens church is worth a visit because of the interior decor.
Karesuando
180 km from Kiruna. Beautifully located near Muonio river. Walk across the bridge and you will find yourself in Finland. The tourist information center in Karesuando can tell you about the founder of Laestadianismen Lars Levi Laestadius who lived and worked here. In the summer you can also visit Laestadii garden, Laestadii house and the botanical garden. Karesuando has accommodation, restaurant, grocery store and gas station. From Karesuando it is about 110 km to Kilpisjärvi where you can continue on to Treriksröset.