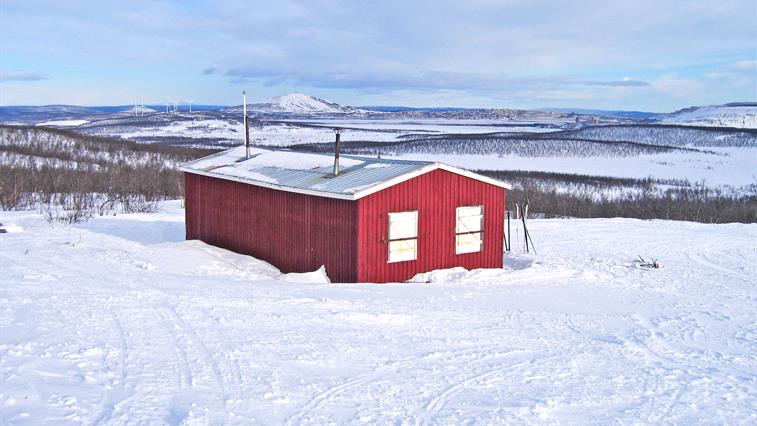 Ädnamvaara – Kirunas lovely little spot
When the sun returns after the darkest time of the year, the mountains open up. It is the beginning of an intense and beautiful time out in the sparkling Arctic winter. In Kiruna it is more common to find outdoor dining in the mountains instead of in the city centre during spring.
During the weekends, the locals take a trip to the mountains and out into nature around the destination to enjoy the sun, go skiing, snowmobiling, ice-fishing and spend time with friends and family. A local favorite excursion for many locals is the trip up to the lonely cottage on the mountain Ädnamvaara, which in northern Sámi is called Eatnamvárri, with its highest peak reaching 790 meters above sea level. Up here service is provided by students together with their parents. The trail to the cottage starts a few kilometers from Kiruna, on a big parking lot close to road E-10. Many people use the trail as a fun workout with cross country skis, others hop on the snowmobile and drive to the top.
The 7 kilometers up to the cottage go over marshes at the beginning before reaching an uphill going above the tree line with a nice view of Kiruna. Ski trails are drawn when the cottage is open. If you go up on the top you can look out over the mountain world and most likely see traces of ptarmigans outside the snowmobile tracks. It takes about 1 hour to reach the cottage by skiing and when you arrive you can buy Ädnam soup, hot dogs, sandwiches, drinks and pastries. Sit down and enjoy the sun, take in the scenery and relax. Here you will be met by happy people of all ages. If you want to meet locals, enjoy homemade Swedish fika and enjoy nature, it is highly recommended to go here.
When it is really bad weather the cottage will be closed and a sign posted on the notice board at the parking lot. The cottage is usually open from mid-February to mid-April. Payment with cash.