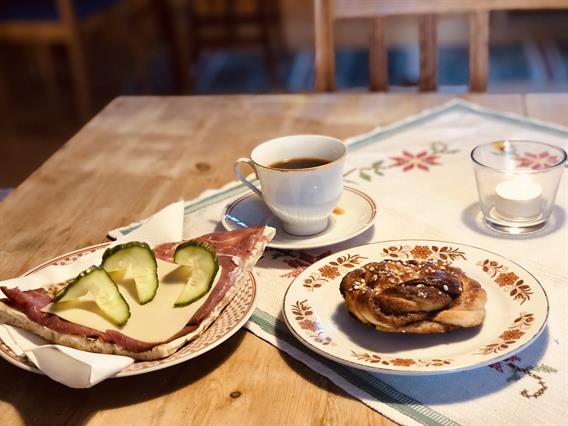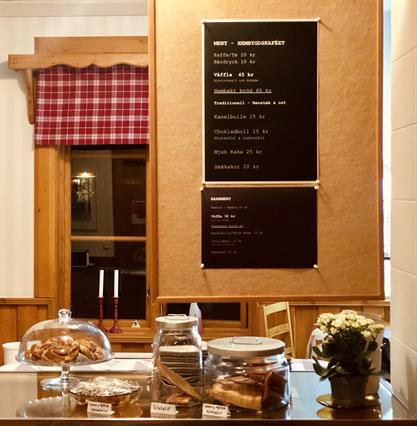 Meeting of two local cultures
The Homestead Kafé will be closed until 8:th december because of the pandemic. We follow advice from the Swedish Public Health Agency.
WELCOME TO OUR BEAUTIFUL HEMBYGDSGÅRD/OLD HOMESTEAD on the banks of the TORNE RIVER
Enjoy a cup of coffee or tea with home-made bread or a cinnamon bun, baked in the traditional way, using the stone oven in our cottage bakery.
Be inspired by our wonderful handicraft made by local craftspeople, using materials gathered from nature: a thousand-year-old craft that has been passed down throughout the ages, from the old to the young, generation to generation.
Join a guided tour of our museum and learn the story of our local cultures, the Sami and the Tornedalian – a story that takes you back to the Ice Age. You will learn about the year-round challenges of outdoor life in the arctic climate, and how we humans in Lapland learned to forage, taking advantage of nature's offerings. A coexistence between man and nature over thousands of years.
/Ida-Maria, Ida-Marie & Ida-Louise
Opening hours: (Premiere opening at 17th October 2020)
Tuesday – Sunday 11.00 – 17.00
Café: Homemade bread & cinnamon buns/cookies, coffee/tea, waffles
Handicraft: Made by local craftspeople
Guided tours museum: Saturday & Sunday 12.00-12.45 – 165 sek/pers
Adress: Marknadsvägen 11, 981 91 Jukkasjärvi. Busstidtabell.
Contact: info@sapmilife.com
Instagram & Facebook: hembygdskafeet